Lighting Control At The Watford Temple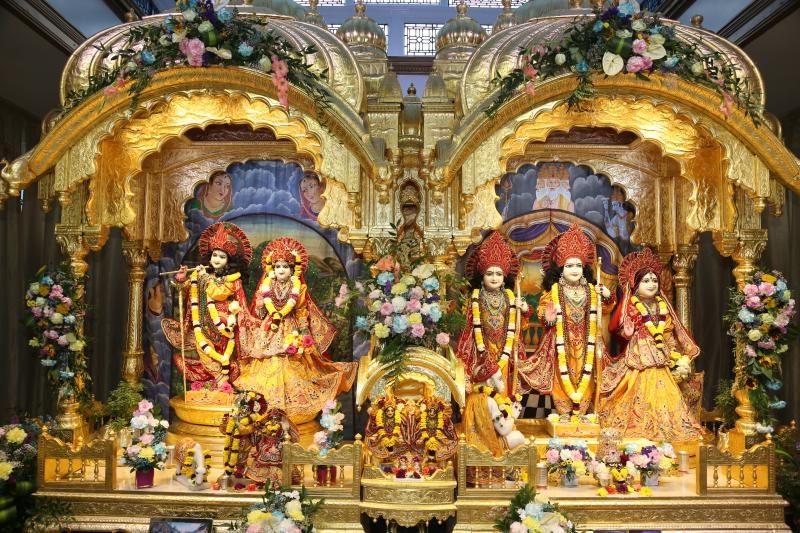 Known colloquially as the Watford Temple, Bhaktivedanta Manor and its large acreage was donated to the Hare Krishna movement by George Harrison in 1973.
Many of their annual festivals attract over 65,000 people and, as part of the 40th anniversary celebrations, Control Lighting Ltd were delighted to be asked to control the lighting in the newly refurbished altar room and its beautiful gold altar.
The key to this project was to turn a sophisticated user requirement into an easy to use system.
For example, there are seven standard lighting options required during a "normal" day. Some of these options will include sequences of pastel colour changes and will also include cold white and warm white lighting sequences changing throughout the day – depending on the time of day and also on the time of year. On festival days, there are a further set of sequences and occasional manual setting is also required.
Control Lighting Ltd devised a comprehensive solution to these requirements. They were presented to the priests and included a wall mounted touch screen panel with the seven standard "normal" options clearly depicted. There is a further (password protected) option for advanced level users which presents the menu for the festival lighting options. These are clearly laid out with three festival presets, seven festival sequences and two options for manually selecting the dome colour or the altar colour. As soon as the festival day is over, the settings revert back to the standard "normal" settings.
The feedback from the priests, devotees of the temple and visitors has been very complimentary. The lighting is very pleasing and beautiful – offering many different ways of lighting the altar; highlighting and complementing the variety of hand-sewn outfits and flower garlands that the deities of Radha, Krishna and Rama, Sita, Laxman and Hanuman are dressed in every day. However, these complex lighting configurations are presented in such a simple manner that they are easy for all to operate and elegantly hide the necessary sophistication of this complex lighting implementation.