Control Lighting recognises that installation projects vary considerably in complexity, size, requirement and budget. During your project's lifecycle, certain components may be installed at different stages, by separate suppliers - often each controlled by disparate and seemingly incompatible systems [as an analogy, consider the cross-compatibility problems that exist between Microsoft Windows and Apple Operating Systems].
We specialise in bridging the gap by consolidating all such control languages and technologies into a simplified, reliable, and customisable user interface, without the loss of functionality or performance.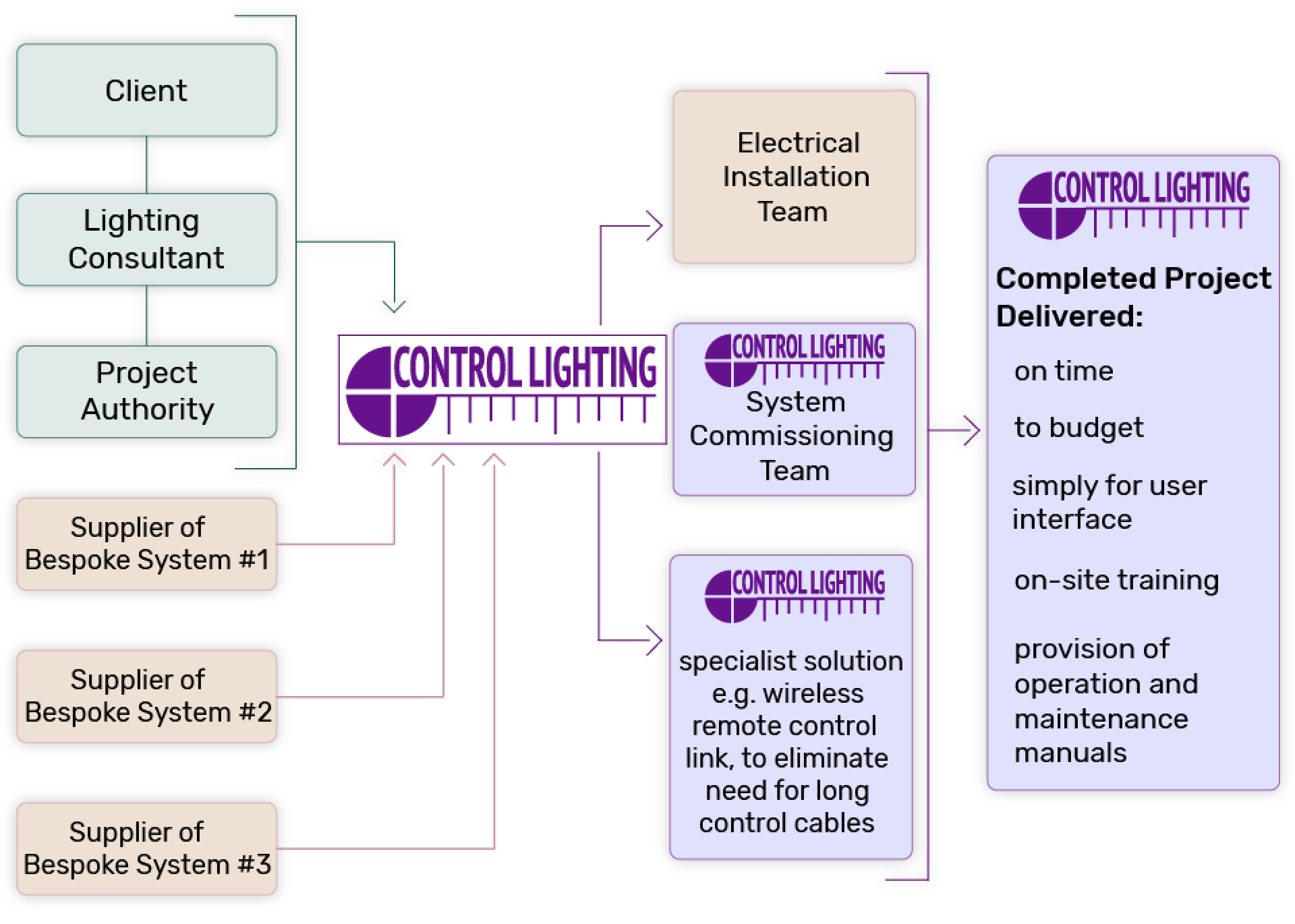 The diagram above illustrates a sample project configuration. At Control Lighting, we fully acknowledge that every project is unique, in terms of the technologies, fixtures, and infrastructure adopted, and work to provide the very best solutions to complement your existing scheme.
Career Opportunities
CLICK HERE TO APPLY
Control Lighting supports
many different technologies
and systems including:
DMX 512 Protocol

DALI Protocol

DSI Protocol

RS232 Protocol

1-10V Protocol

Artnet Protocol

ACN Protocol

ETC Irideon Luminaries and
Lighting Control Systems

ETC Unison and Paradigm
Lighting Control Systems

iLight Group Control Systems

LED Light Fixtures from many different Worldwide Manufacturers

MODE Architectural Control Systems

Strand Lighting Control Systems

Martin Architectural Luminaries
and Lighting Control Systems

LUTRON Lighting Control

Philips Dynalite

Helvar Lighting Control

Crestron Lighting Controls
Control Lighting supports
many different technologies
and systems including:
DMX 512 Protocol

DALI Protocol

DSI Protocol

RS232 Protocol

1-10V Protocol

Artnet Protocol

ACN Protocol

ETC Irideon Luminaries and
Lighting Control Systems

ETC Unison and Paradigm
Lighting Control Systems

iLight Group Control Systems

LED Light Fixtures from many different Worldwide Manufacturers

MODE Architectural Control Systems

Strand Lighting Control Systems

Martin Architectural Luminaries
and Lighting Control Systems

LUTRON Lighting Control

Philips Dynalite

Helvar Lighting Control

Crestron Lighting Controls