"Quality Pastel Lighting Installation"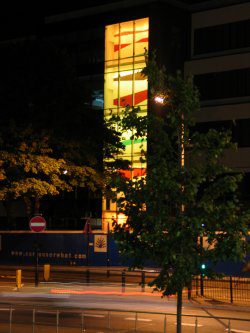 We've recently been working with Coventry City Health Facility on a new NHS development at the Coventry and Warwickshire Hospital.
We were approached by the designer, Neil Musson, to deliver his vision of sequenced LEDs lighting a five storey high painting. As this is a glass panelled building, the artwork and lighting will be visible from outside.
Our job was to understand the design brief from Neil and to show how we could deliver a great solution.
We then sourced and supplied the light fittings and the control system, installed and tested the products and programmed the lighting sequences.
The lighting scheme differs on each day of the week and is programmed to scroll slowly down the building occasionally interspersed with bright bursts of highlight colours. The design references Coventry's famous industrial production lines as part of the lighting theme.
The results are very refreshing. Neil's colour palette consists of shades of yellows and lime greens as well as other subtle pastel sequences, which delivers a very interesting and unique solution.