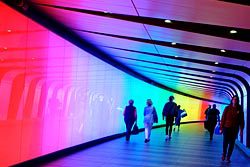 One of the trends we've noticed in the last 12 months is that retail outlets, public buildings, and large corporations are choosing more and more to mark and celebrate days of the year that have a special meaning. For example, there were awareness days in February for World Cancer Day, International Women's Day in March, Multiple Sclerosis awareness week in April, World Red Cross Red Crescent day in May, and Pride celebrations in June.
Many of these days have specific colour associations and more and more venues are lighting their key spaces in those key colours to support these worthy causes. This London tunnel was beautifully lit in rainbow colours for Pride and many visitors took photographs of the tunnel in all its glory.
All of the colour schemes can be pre-programmed in advance and many organisations are now building these colour changes into their annual calendar to ensure switching from their default settings to an awareness setting and back again is an extremely simple operation.