Providing Lighting Control At Jeddah International Airport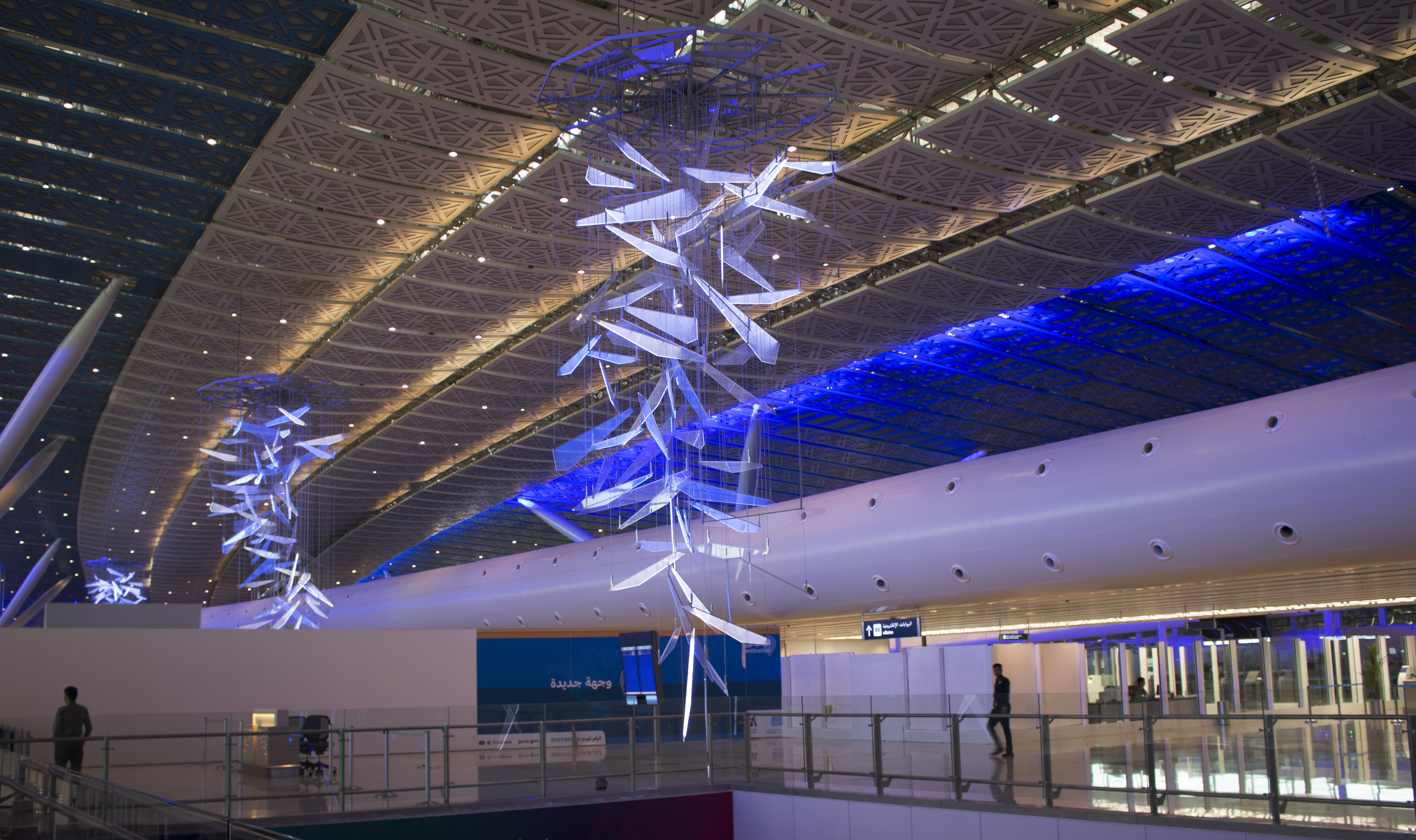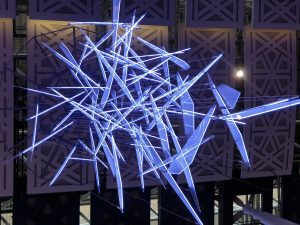 For this month's newsletter, we are delighted to feature the launch of "Dawn" an astonishing work of art recently unveiled in the new International Airport in Jeddah, Saudi Arabia.
"Dawn" designed by musson+retallick is a monumental work consisting of four enormous sculptures that spiral upwards like currents of air into the curved rooves of the departure hall in this world-leading international airport.
These sculptures comprising colour-changing acrylic wing-shaped blades cleverly suspended in mid-air reflect on the different ways that flight has influenced our world and our views on freedom. On the inside of each of the acrylic translucent blades, LED light strips illuminate the outer surfaces with a sensitive palette of sky blues, subtle greys and wisps of white. These programmed light sequences emulate the movement of clouds as they drift through each sculpture before continuing their journey to the adjacent sculpture further down the departure hall.
At Control Lighting Ltd, we were delighted to be approached by artists Neil and Jono, to help deliver their vision by providing our expertise in lighting control. We had previously worked with M+R on their "Now You See Me" artwork in Coventry and were looking forward to be working with them again.
The first of the four sculptures was actually fully tested in the UK at the Q121 industrial wind tunnel at Farnborough Airport. As the aerodynamics of various Spitfire components were tested in this building, this was an ideal location for this artwork. It also had the advantage of being a tall enough building from which to suspend this gigantic structure.
Each sculpture consists of 80 custom-made blades supported by 160 weight bearing wires of differing lengths. The extraordinary engineering, made possible by Colin Musson, used complex computer modelling to ensure that no blades or wires touched each other or changed the delicate overall shape of the cluster of wings. Each wire also secreted electrical and data cables that become completely invisible when the structure is in place.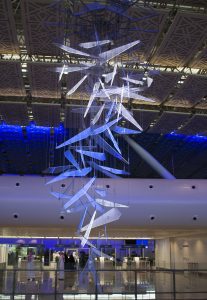 After comprehensive testing of all lighting control components, Ray Dolby from Control Lighting Ltd programmed the "movement of clouds" lighting scheme and in collaboration with the artists, finalised the programming of the lighting sequences.
Unusually, the combination of the custom-made LED strips and the acrylic material enabled Ray to create a grey sky colour to add into the palette of blues and whites. This is notoriously difficult where greys are essentially a combination of black and white. These colours are usually more associated with brightness and dimming in lighting rather than specific grey tones. The end client visited the installation at Farnborough and was extremely pleased so all four structures were shipped to Jeddah International Airport.
M+R flew out and painstakingly assembled all of the structures. Ray Dolby joined them and again tested all of the data connections for all 320 blades. The blades were then inserted and the structures were carefully elevated into their final positions in the departure hall. The programmed lighting schemes were then tested and minor adjustments made.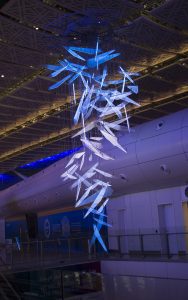 One small complexity was that each sculpture is positioned at a 90 degree angle from the one next to it. The four sculptures face North, South, East and West. Whilst this is visually pleasing and aesthetically appealing, it did create an additional sophistication when programming the light sequences. For example, as a "cloud" moves from one sculpture to another the sequence cannot be same as the logical "next" blade is at 90 degrees. Therefore, an exact knowledge of the physical location of all 320 blades was essential in creating smooth transitions as the clouds ripple seamlessly down the hall.
Ray Dolby commented: "This is one of the most exciting and interesting projects that we have been part of for many years. Whilst we have worked extensively on both artwork and commercial lighting control projects, Neil and Jono's knowledge of exactly what they wanted and their amazing attention to detail was remarkable. They involved us closely at all stages so we really bought into their vision. Both the artists and end client had a real desire to make this complex project happen."
"One of my favourite moments of the installation stage was watching a small family group stop, point directly at the artwork and start discussing the blues, greys and whites drifting "clouds" over the sculptures. I can't wait to see what M+R come up with next!"
Image credits: www.mussonretallick.com